to german text:

to thai text:

---
Vacation Apartments of Family Meyer in St.Goar with best view to the Rhine
St.Goar lies on the Middle Rhine opposite the legendary Loreley rock and at the foot of Castle Rheinfels.
The Middle Rhine is for a relaxing vacation ideal and has the UNECO-title World Heritage Site.
It has the possibility for interesting walks, boat rides or bike tours.
Especially guests from flat areas love the Rhine Valley with its mountains and castles.
Our private vacation apartments directly besides the Rhine are available for best recreation and holidays.
Here some facts:

Location directly by the rhine in the 2. floor of the house Heerstrasse 59 in 56329 St.Goar.
View from living and sleeping room to the rhine, the ferry, St.Goarshausen with castle Katz and castle Maus.
Apartment one has a size of 60 m² and number two of 46 m² each for two persons (double bed). Until seven more persons can sleep in additional beds (Look: Equipment of the rooms). Every apartment has modern facility with 2 TV's and all other relevant equipment. For international guests we have Sat-TV from 5 satellites (Astra 19.2, Hotbird, Astra 28.2, Sirius, Eutelsat W3 7.0).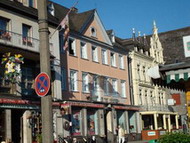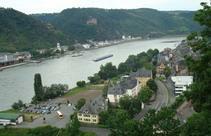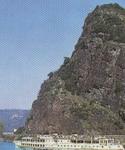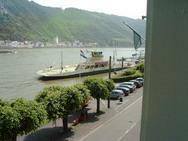 Heerstr.59 St.Goar City Loreley Rhine with ferry


For entertainment we have: Castle Rheinfels with Heritage Museum, the Loreley, boat rides, swimming pool, beer garden, Minigolf, Doll Museum, walks, summer festivals such as

"Schützenfest", "Hansenfest", "Tal Total"

and especially

"Rhein in Flammen"

(Rhine in flames) on the third saturday in September, etc. (Look also www.st-goar.de)


Prices for at least 5 days: Apartment 1 / Apartment 2 every more additional person
2 persons for 8 days and more 50,-- € / 47,-- € each day, 14,-- € each day,
2 persons for 5 to 7 days 53,-- € / 50,-- € each day, 16,-- € each day,
inklusive bed linen, towels and end-cleaning.

For long term stay (more than two weeks) more discount available on request.

Special conditions for the climax of the season in St.Goar "Rhine in Flames", the third saturday in september:
Rent at least 5 days, Apartment 1 / Apartment 2 every more additional person
for this 5 days we have the RiF-rate: 65,-- € / 60,-- € each day, 25,-- € each day,
for more days we have the normal rate taking into account the 5 days.


By arrival with train we can pick you up the 150 m from the railway station, if you need.
WLAN (Wi-Fi) for internet is possible.


In the rooms - "no smoking"please.



Contact:
Family Ulrich Meyer
Heerstrasse 59
56329 St.Goar
Tel.: +49 (0) 6741 96181
Fax.: +49 (0) 6741 93975
E-mail: fewo.umeyer@t-online.de


If you contact us for an inquiry or a reservation, do this preferably by e-mail with:


Apartment 1 or 2, preferred date, number of persons, your address, telefon- and/or handynumber and more requests.
You will receive by an inquiry a cost proposal and by booking a written confirmation.

Since we are not a hotel with a permanently occupied reception, we need to know in case of a reservation your approximate arrival time. This you can tell us some days before your stay by us.
Please do not bring pets, due to allergy risk to the tenant.



Pictures from the view.

Pictures from apartment 1


Pictures from apartment 2

Equipment of the rooms.

Arrival, map, location of the apartment and occupancy plan.




More Informations see the following links:
www.st-goar.de
www.welterbe-mittelrhein.de
http://www.sankt-goar-oberwesel.de
Rhine in flames
Valley of the Loreley
Internat. Hansenorden St.Goar
Köln-Düsseldorfer AG
Loreley Ferry
The Rheinsteig

(Responsibility: the responsibility of this links stays only by the owners of this linked pages. Look Disclaimer !)


---
Visit my Homepage: http://umeyer-st-goar.de


New -> Who is God? Part 3 - The Answer
---

Imprint:
Private holiday apartments without vat
Ulrich Meyer
Heerstrasse 59
56329 St.Goar
Germany
Tel.: +496741 96181
E-mail: fewo.meyer@t-online.de

Note on online dispute resolution pursuant to Art. 14 para. 1 ODR-VO:
The European Commission provides an online dispute resolution (OS) platform, available at: EC.Europa.Eu

---
0823